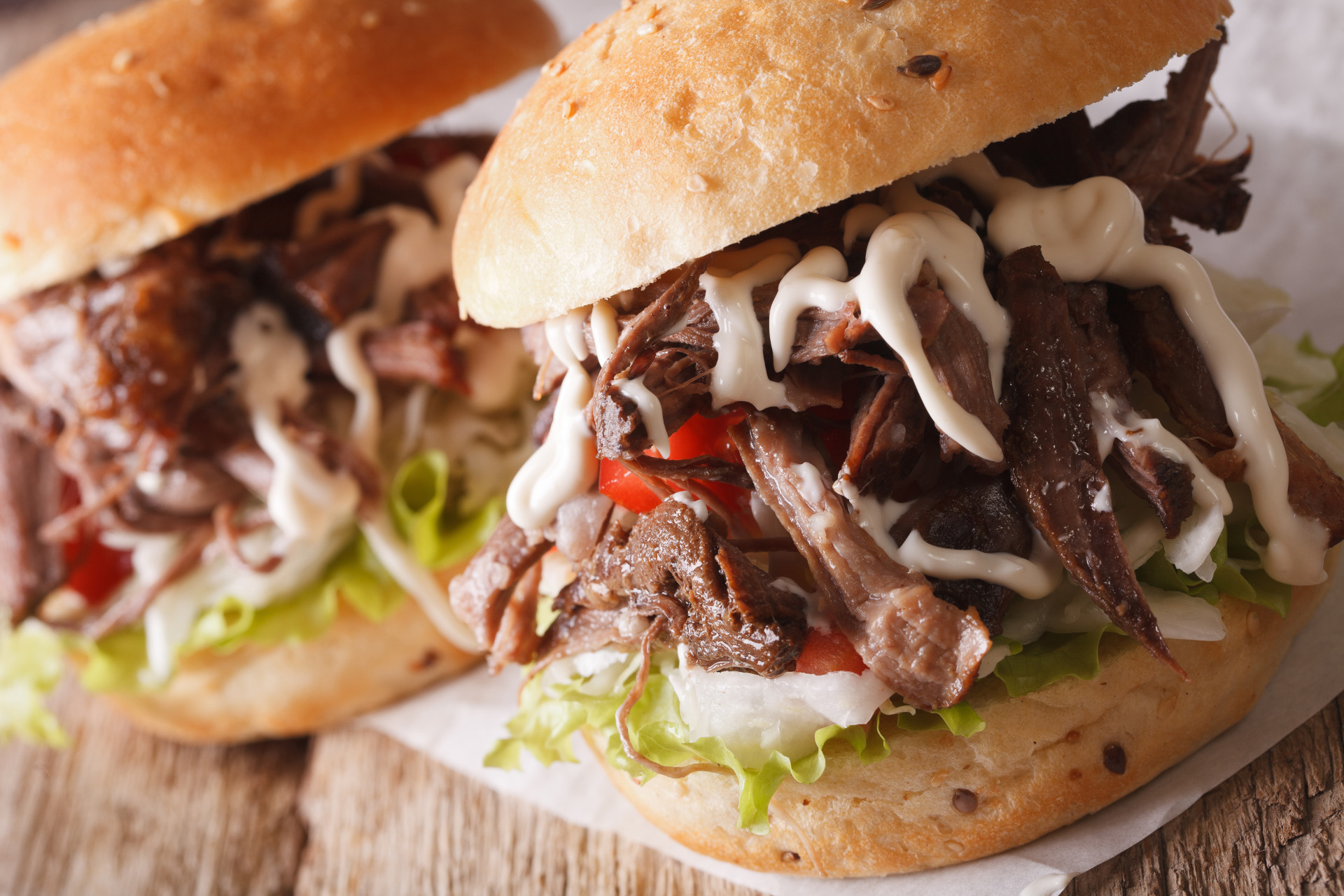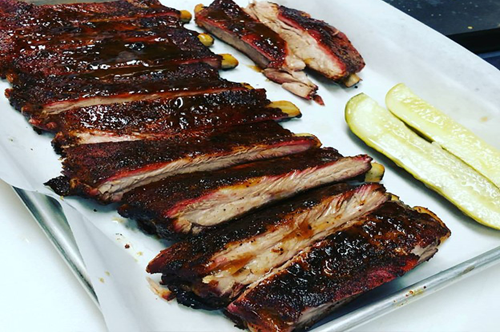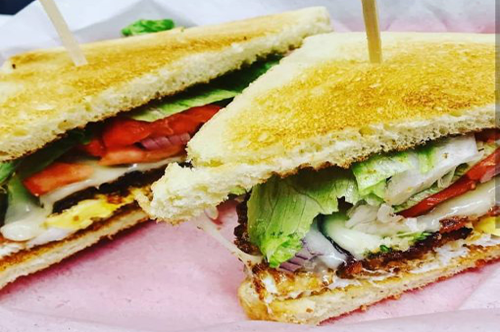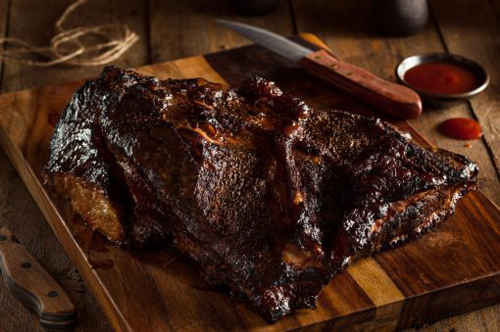 BREAKFAST is devoured from 9 – 11 AM
Hash of Beef – The fan "craving" favorite! 14 Hour Smoked Texas Style Beef Brisket mixed with Country Potatoes, onions & bell peppers topped with 2 eggs your way $13 Add Toast $2
Bacon Burrito – Loaded with Bacon! Extra Large with crispy bacon, cheese, scrambled eggs, sour cream and salsa $12  Add potatoes $1
Brisket Burrito – 14-Hour Smoked Beef Brisket on cherry wood, cheeses, scrambled eggs, country potatoes, sour cream and salsa $13
Put a Steak in It – Tri-Tip Steak Burrito – BBQ Beef Tri-Tip, scrambled eggs, cheese, sour cream & salsa $12  Add Potatoes $1
Fried Egg Sando – Two fried eggs, applewood-smoked bacon, lettuce, tomato, onion, cheese on sourdough toast $11
Cluck & Squeal – Scrambled or Fried eggs, sourdough toast, country potatoes and crispy applewood-smoked bacon $11
Toads in a Hole – Two fried eggs in cut out center of two slices of browned buttery sourdough bread with two strips of applewood-smoked bacon $10
Caramel Bacon Monkey Bread $5  or Whole (6 slices) for $30
LUNCH is deliciously served 11 – 3 PM
Fish 'n Tacos – Two grilled Cod Fish Tacos with lime, fresh cabbage, Mango Salsa and creamy mild chipotle drizzle $14
BACK ON MENU WHEN WEST COAST SEASON REOPENS – Buttery Dungeness Crab Sandwich – Two slices of Buttery grilled Sourdough bread filled with creamy Havarti Cheese, green onion and overflowing with loads of local Dungeness crab!  $17
Clam & Scallop Chowder –  Award winning in both Bodega Bay and Santa Cruz, creamy white chowder with loads of clams and scallops in a 16 ounce cup with oyster crackers  $10
Alicia's Crackling Nachos – Extra Large Platter of Tortilla chips, melted cheeses, avocado, sour cream, mild Chipotle sauce. Choice of Pulled Pork, Tri-Tip or Beef Brisket $16 No Meat Nachos also available. Sonoma Mag voted Top 20 Best Nachos in Sonoma County!
Moo Sandwich! – 14 Hours on Cherry Wood Smoked Tender Beef Brisket or BBQ Beef Tri-Tip on toasted French roll with BBQ sauce, lettuce, onion & tomato $13
The Piggy – 14 Hours on Cherry Wood Smoked Pulled Pork sandwich topped with coleslaw, BBQ sauce on a toasted Brioche bun $10
Paul's Pork Ribs  – Winner of the People's Choice Smoked Ribs at Stumptown Brewery in 2019 against 35 of the Top Competitors in California!  These are crave worthy! Half Rack (5 Ribs) $17  Full (10 Ribs) $28 – Dry rubbed and slowly smoked tender, basted with Paul's secret sauce
Grillin' Dog – Extra Large 49'er All Beef Hot Dog $7  Add Cheese $2
SALADS & SIDES
Surfin Cole Slaw –Mama's special Coleslaw recipe has a BBQ tang $4
French Fries – Crispy & salty $5
Country Ranch Beans – Smokey, sweet, a little spicy with onions and bell peppers $4
TASTY BEVERAGES
             WHITES & SPARKLING
Chardonnay, Antonio Mountain Vineyard 2018, Sonoma Coast Vineyard (SCV). Hand Harvested, Heritage Selection. Flavors of pear, melon with a toasted marshmallow creaminess. $12 Glass $42 Bottle
2019 "Oh My Cod" Napa Valley Pinot Grigio, Bodega Bay Winery. Hints of pear and Pineapple with a light floral aroma. $10 Glass $27 Bottle
Sauvignon Blanc, Sonoma Coast Vineyards. Profile of jasmine, lemongrass, pineapple, Granny Smith apples, nectarines, and tangerine. $12 Glass $30 Bottle
Brut California Champagne Natural, Korbel – By the bottle $30 or $10 Single Serving Bottle
        ROSE', RED BLEND & PINOT NOIR
Rosé, Salmon Says, Bodega Bay Winery, Zinfandel & Pinot Blend with flavors of strawberry and a cherry aroma. $10 Glass $27 Bottle
Red Blend, Going for Broke Proprietary, Paydirt, Napa Valley. The 2018 faultlessly combines old vine Zinfandel with Grenache, Petite Syrah, Syrah, Mourvèdre, Barbera and Cabernet.  $10 Glass $30 Bottle
2019 "Crabernet" Merlot & Splash of Cabernet, Bodega Bay Winery, Sonoma. Black Cherries & Herbs with $10 per Glass $27 Bottle
2019 "Octopus Ink" Mouvedre Zinfandel & Syrah Blend, Bodega Bay Winery, Dark fruit, rich blackberry & subtle white pepper. $10 Glass $27 Bottle
Pinot Noir, Sonoma Coast Vineyards – This wine has an alluring deep fuchsia color and delicate red fruit aromas, with graceful notes of rose petals, berries, and seasoned oak. The pure red berry notes continue on the palate, enriched by layers of pomegranate, tea leaves, and star anise. $14 per glass $42 per bottle
$10 Mimosa 16 ounces of delicious fresh orange juice and premium champagne! 
Time-Tested Recipes From Our Parents & Grandparents