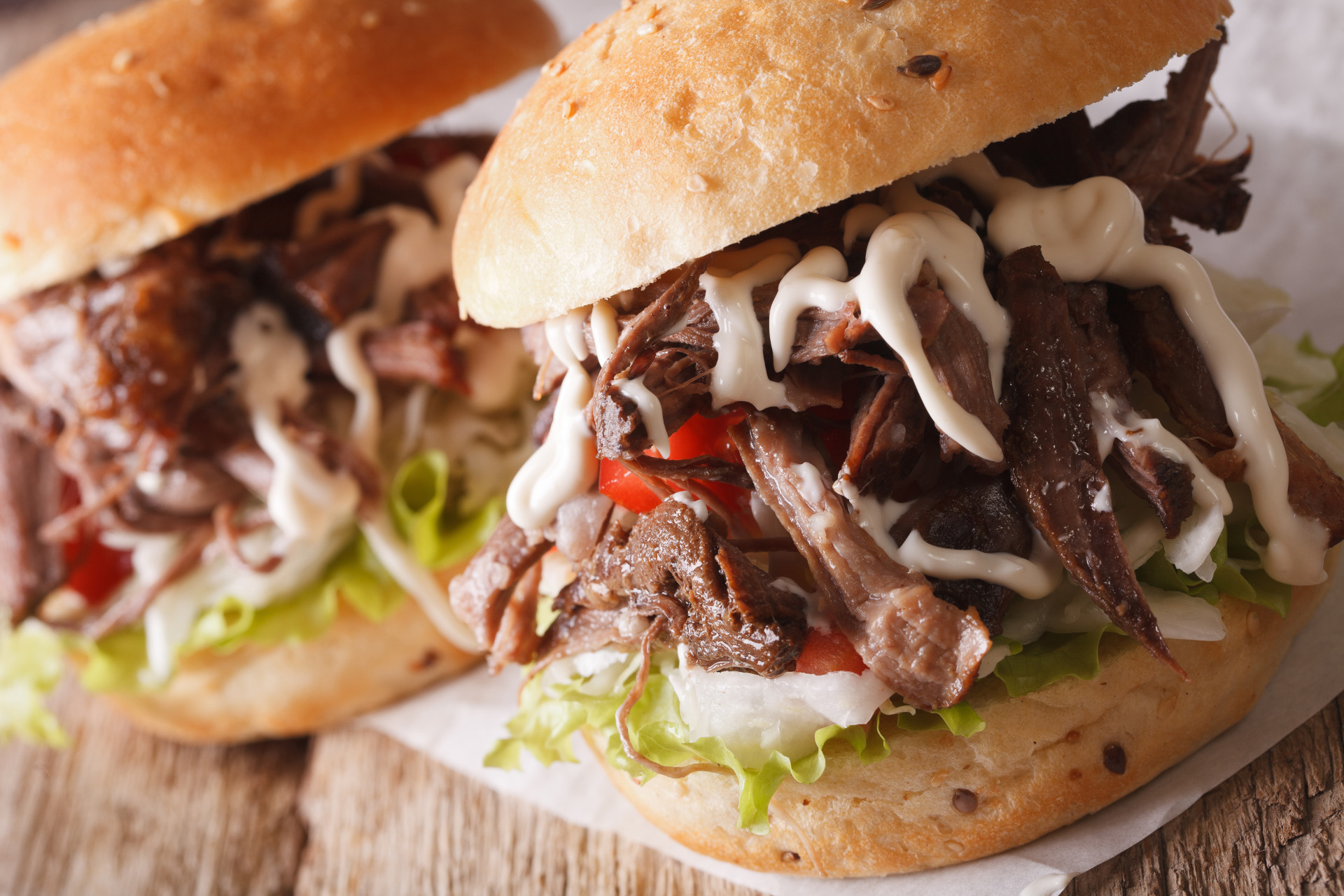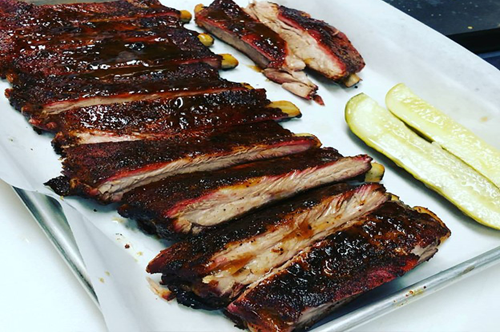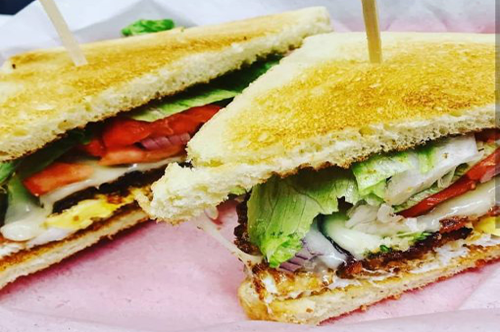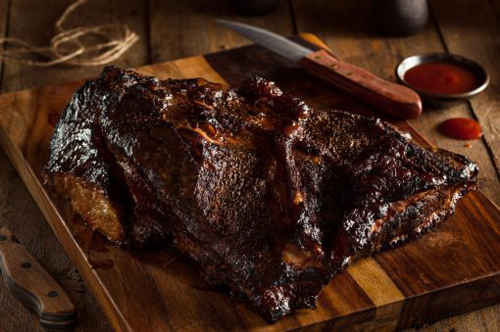 Order online from 9:00 am to 3:00 pm Thursday thru Sunday!   All Covid safety protocols in place. We have 2 beautiful waterfront patios available on a first come, first serve basis.  Avoid the line and order online before you arrive! 
BREAKFAST is devoured from 9 – 11 AM
Hash of Beef – The fan "craving" favorite! 14 Hour Smoked Texas Style Beef Brisket mixed with Country Potatoes topped with 2 eggs your way $13 Add Toast $2
Bacon Burrito – Loaded with Bacon! Extra Large with crispy bacon, cheese, scrambled eggs, sour cream and salsa $12  Add potatoes $1
Brisket Burrito – 14-Hour Smoked Beef Brisket on cherry wood, cheeses, scrambled eggs, country potatoes, sour cream and salsa $13
Put a Steak in It – Tri-Tip Steak Burrito – Extra Large Beef Tri-Tip, scrambled eggs, grilled onions, cheese, sour cream & salsa $12  Add Potatoes $1
Fried Egg Sando – Two fried eggs, applewood-smoked bacon, lettuce, tomato, onion, cheese on sourdough toast $11
Cluck & Squeal – Scrambled or Fried eggs, sourdough toast, country potatoes and crispy applewood-smoked bacon, cheese, scrambled eggs, sour cream and salsa $11
Toads in a Hole – Two fried eggs in cut out center of two slices of browned buttery sourdough bread with two strips of applewood-smoked bacon $10
Caramel Bacon Monkey Bread $5  or Whole (6 slices) for $30
LUNCH is deliciously served 11 – 3 PM
Fish 'n Tacos – Two grilled Cod Fish Tacos with lime, fresh cabbage, Mango Salsa and creamy mild chipotle drizzle $14
Buttery Dungeness Crab Sandwich – Two slices of Buttery grilled Sourdough bread filled with creamy Havarti Cheese, green onion and overflowing with loads of local Dungeness crab!  $17
Clam & Scallop Chowder –  Award winning in both Bodega Bay and Santa Cruz, creamy white chowder with loads of clams and scallops in a 16 ounce cup with oyster crackers  $10
Alicia's Crackling Nachos – Extra Large Platter of Tortilla chips, melted cheeses, avocado, sour cream, mild Chipotle sauce. Choice of Pulled Pork, Tri-Tip or Beef Brisket $16 No Meat Nachos also available $12
Moo Sandwich! – 14 Hours on Cherry Wood Smoked Tender Beef Brisket or BBQ Beef Tri-Tip on toasted French roll with BBQ sauce, lettuce, onion & tomato $13
The Piggy – 14 Hours on Cherry Wood Smoked Pulled Pork sandwich topped with coleslaw, BBQ sauce on a toasted Brioche bun $10
Paul's Pork Ribs  – Winner of the People's Choice Smoked Ribs at Stumptown Brewery in 2019 against 35 of the Top Competitors in California!  These are crave worthy! Half Rack (5 Ribs) $17  Full (10 Ribs) $28 – Dry rubbed and slowly smoked tender, basted with Paul's secret sauce
Grillin' Dog – Extra Large 49'er All Beef Hot Dog $7  Add Cheese $2
SALADS & SIDES
Surfin Cole Slaw –Mama's special Coleslaw recipe has a BBQ tang $4
French Fries – Crispy & salty $5
Country Ranch Beans – Smokey, sweet, a little spicy with onions and bell peppers $4
TASTY BEVERAGES
Taylor Lane Coffee, free refills $3.25
Hot Chocolate $3 Coke, Sprite, Diet Coke, Bottled Water, Orange Juice. Lemonade, Milk $3.00 Unsweetened Ice Tea $3
         Wines:  Whites, Sparkling & Rose'
2018 Pinot Noir Rose' Purple Pachyderm, Claypool Cellars, Russian River Valley. Crisp, dry and delightful wine with ample body weight and complexity, enjoyably earthy and herbal. Layered flavors of peach and lemon give it a balanced, fruity core of personality that resonates with the variety $11 Glass $37 Bottle
2019 "Oh My Cod" Napa Valley Pinot Grigio, Bodega Bay Winery.  Pairs perfectly with our Grilled Fish Tacos & Pulled Pork! $10 Glass $27 Bottle
2019 "Summertime White Wine" Blend, Bodega Bay Winery $10 Glass $27 Bottle
2015 Grenache Blanc, CRUX, Russian River Valley. Sauvignon Blanc blended with Viognier for added complexity. The result is an aromatic wine with crisp, clean flavors of ripe pears. This wine is a perfect choice for warm summer days and lighter foods. $11 Glass $37 Bottle
2018 Vermentino & Malvasia Bianca, Brainchild, Patrick McNeil. This is a bright and savory Mediterranean-style white wine with aromatics of citrus, white pear, fresh hay, and lemon zest. The Vermentino is savory with a slight minerality, and pairs well with the floral aromatics of the Malvasia Bianca. $11 Glass $37 Bottle
2019 Chardonnay, Hook & Ladder Estate Bottled, Russian River Valley. Displaying colors of goldenrod, our 2019 Chardonnay's bouquet elicits floral notes of honey, ripe apple and light butterscotch. The flavors exhibit subtle, creamy, Gravenstein apple with a touch of nectarine and guava on the finish. $11 Glass $37 Bottle
2019 Sauvignon Blanc Olivet Ranch, Hook & Ladder, Russian River Valley. Shines with a pale lemon chiffon color and aromas of citrus and muskmelon. The palate offers full flavors of lime zest, passion fruit heightened by its lingering lychee, trace green apple finish. $11 Glass $37 Bottle
Brut Natural California Champagne, Korbel – $30 or single serving bottle $10
                      Pinot Noir & Red
2018 Going for Broke Proprietary Red Blend, Paydirt, Napa Valley. The 2018 faultlessly combines 81% old vine Zinfandel with Grenache, Petite Sirah, Syrah, Mourvèdre, Barbera and Cabernet from top-sites including Dusi in Paso Robles, Bokisch in Lodi, and includes vineyards in Oak Knoll and St Helena.  $11 Glass $37 Bottle
2019 "Crabernet" Merlot, Bodega Bay Winery, Sonoma Merlot & Splash of Cabernet $10 Glass $27 Bottle
2019 "Octopus Ink" Mouvedra Syrah Blend, Bodega Bay Winery $10 Glass $27 Bottle
NV Lord Sandwich Red Wine Blend, Smith Story Wine Cellars, Dry Creek Valley. This proprietary blend of Zinfandel, Syrah, Pinot Noir, Carignane, Grenache, and Petite Syrah hails almost entirely from Sonoma's Dry Creek Valley AVA. The wine is ripe, fruit forward, and perfect with BBQ. Ripe red and black fruit flavors of raspberry, blackberry, and cherry, give way to notes of toasted coconut and a hint of spice. A new pair of socks is given to socksforsandwich.org for each bottle sold. $10 Glass $30 Bottle
2016 Pinot Noir, Hook & Ladder, Russian River Valley. Displays a beautiful shimmering garnet color, followed by aromas of almond-vanilla and fresh strawberry. A layered palette of full ripe flavors consisting of luxardo cherries, brown sugar and sandalwood with a dark chocolate drying finish that lingers. $11 Glass $37 Bottle
Be sure to ask about our amazing Cider selection too!
Time-Tested Recipes From Our Parents & Grandparents